Dr. Noorman van der Dussen
The doctor is well known around the world for his achievements in Facial Aesthetic Surgery and especially Facial Feminization Surgery.
He is a graduated MD, DMD and PhD at the University of Utrecht in the Netherlands.
He presently works as a consultant at the Oral Maxillo facial department in three different clinics in the vicinity of Antwerp and in London, in association with a board certified Cranio Maxillo Facial surgeons and a Plastic surgeon.
He is fellow of the Dutch, Belgian and European Association for Oral and Maxillo Facial surgery, fellow of the Dutch Association for Aesthetic Plastic Surgery and fellow of the European Academy of Facial Plastic Surgery.
Facial Feminization Surgery
He is one of the pioneers in Facial Feminization Surgery in which field he developed procedures that have been adopted by many of his colleagues.
He trained other Maxillo Facial surgeons and Plastic surgeons in innovative techniques and procedures in the field of Facial Feminization Surgery.
Dr. Frans Noorman van der Dussen developed surgical procedures that do not leave any visible scars and result in a swift recovery. The procedures are a combination of bone structure and soft tissue operations in only one surgical intervention. The advantage is that all anatomical units in the face can be mutually fine tuned in a harmonious way.
The Singelberg clinic
Dr. Frans Noorman van der Dussen performs the surgeries in Belgium at the Singelberg clinic in Beveren and the Athoma Clinic in Edegem.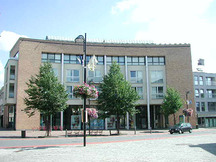 Consultations take place in Belgium two times a month on a Tuesday at the Singelberg clinic.
The more complex craniofacial FFS procedures are often carried out together with his skilled collegue Dr. Bert Oelbrandt.